When work is slow tomorrow, I will go into detail about thoughts on TNF and how I love working with a live band.
Until then a few images for ya'll.
Charlie K came and shot our first set, but couldn't stay for the live set. Irena (sp? I think she's Israeli. My lack of knowing how to spell her name is because she is known to me from the Alegra days and Alegra totally mangled her name.) also had her monster cam and was shooting away for both sets and will get a hold of me later. Charlie sent me sneak links to the pictures so I am passing the joy onto you.
I didn't snag an Anaan picture, because she's the most self-conscious of us and I really should ask her first before posting...besides, most of you know what she looks like and those of you who have girl-crushes on her can sort through past postings.
And, yeah yeah, again with the pinstripes.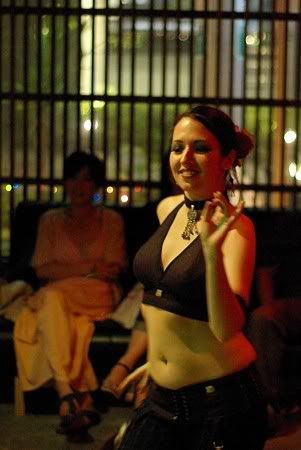 I love this one, not for how I look...but for how happy the woman behind me is as she watches me.