I talked to the Dean Mommy today. All is good.
I've shared with you how the Dean taught me about the squirrels.
Now, if you're wondering how my mother ended up like
she
is...here's two great pictures of my (now passed away) grandmother.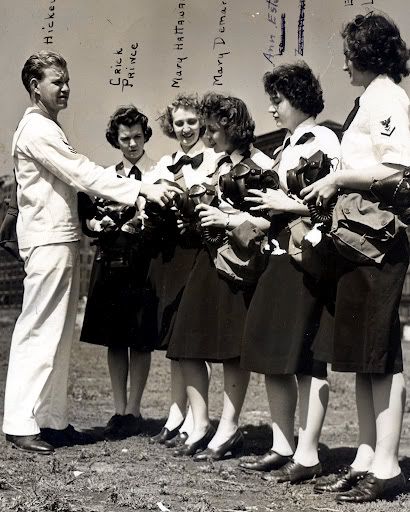 That's her under "Crick Prince" getting her first gas mask!...as Christina she somehow ended up being nick-named Cricket.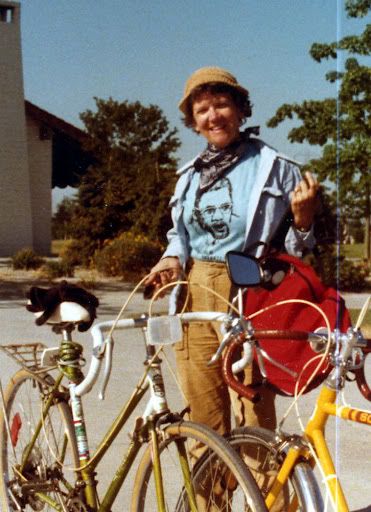 And Grandmother durring the 7 year courtship of her third, final, and best husband, Bob. She wasn't planning on making any mistakes. The two of them biked all around California, hiked, and more. In this shot she is proudly wearing a shirt with Malcom X on it, as Dean Mommy had become a principal (and teacher and admin) of Malcom Shabazz City High in Madison, an alternative public high school. My grandmother, having been a teacher herself, thought most principals were pricks...but eventually supported her daughter in the transition.
I often sleep in my own Malcom shirt and Malcom X and Virginia Wolf were early t-shirt figures in my home. Virginia Woolfe was on the Room Of One's Own (one of America's longest running feminist bookstores where my mom was a member of some sort AND the Team Of One's Own softball shirts, which also featured the woman symbol, with a fist in place of the circle, with a catcher's mitt behind it...GOD I wish I had one of those now.
Other Grandma stories.
http://parasitegirl.livejournal.com/
770527.html#cutid1
http://parasitegirl.livejournal.com/
770194.html#cutid1
http://parasitegirl.livejournal.com/
769433.html#cutid1
http://parasitegirl.livejournal.com/
764977.html